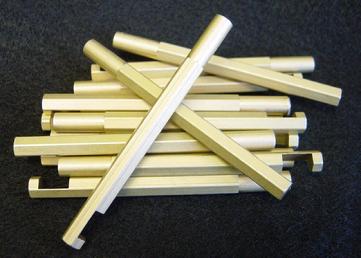 Yellow Chromate
CHROMATE CONVERSION
Chromate conversion or chemical film is a protective coating applied to aluminum parts. Surtronics utilizes Iridite 1400 and Luster-On Aluminescent, RoHS compliant clear. These coatings provide excellent corrosion resistance while providing a degree of abrasion resistance. Paint, lacquer, and organic finishes bond exceedingly well to chromate conversion coatings.
Protection from corrosion and wear

A lubrication carrier

Electrical conductivity

In most cases it does not affect critical dimensions
Our current size limit for Yellow Chromate Conversion is 132" x 38" x 48".
Our current size limit for Clear Chromate Conversion is 6' x 24"
---
Surtronics, Inc - 4001 Beryl Road - Raleigh, NC 27606
Phone 919-834-8027 Fax 919-828-9972
Copyright @ 2017 - Surtronics Inc. - All Rights Reserved